Beara Peninsula, Ireland
I have to say, I think the Ring of Beara kicks the pants off the Ring of Kerry, which is no small feat! It's not nearly as touristy and the driving is trickier (no bus tours, I believe), with much narrower, windier roads — and it is totally worth it!
Dario and I arrived a little late in the day to make it a full out photo tour (we have vowed to return soon!), but I could not resist taking a picture of these sheep with a gorgeous sunset and Skelligs in the distance. The names of the two nearer islands escape me at the moment, but the distinctive shapes of Skellig Michael and Little Skellig in the distance can't be mistaken for anything else. The contrast of the photo is not a result of wacky camera settings. It really looked like that!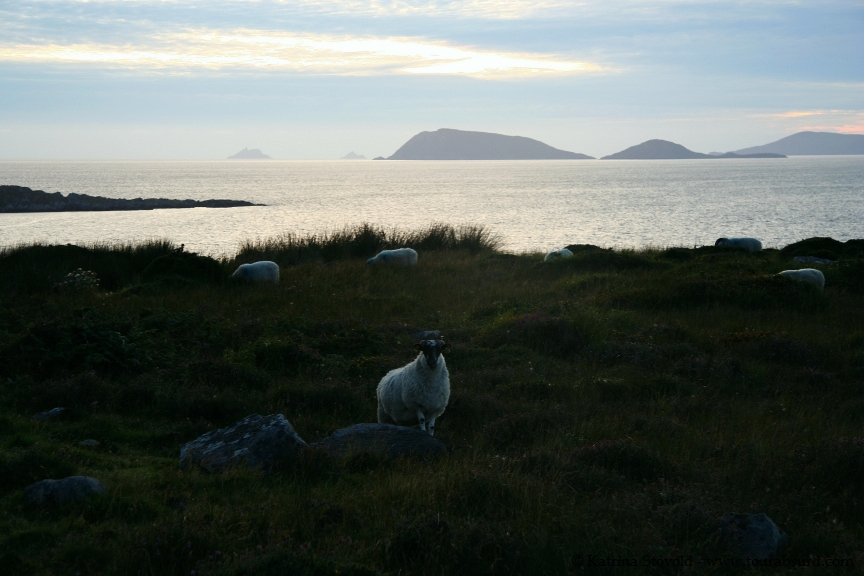 It's a baaaa-rilliant view! (Click for a larger view.)
One of the sheep was giving me the stink eye, not quite sure of my intentions. Either that or it wants to be the next Shaun.
We ran out of words to describe our feelings of awe as we drove. Each time we topped a hill or turned a corner there was something amazing to behold. There are plenty of B&B's along the route, but never once did the drive feel crowded. If anything, we felt like we had this incredible place to ourselves. It was fabulous, just incredible.
When you come to Ireland and you want to skip the hype and the crowds, head to Beara. It's simply breathtaking!