Venice, Italy
On my first visit to Venice I was with a tour group for part of the time.  One of the things they organized was a glassblowing demonstration, since nearby Murano is so famous for glassworks.
I can't swear to it, but I think anyone can walk into Dogi's Murano Art and see the demonstration for free.  Well, you have to exit through the shop, but that's a wonderful experience all on its own!
Can't see the video?  View it on YouTube: http://youtu.be/RYfsozuCLuw
Oddly, my only previous exposure to glass blowing was working for Dale Chihuly, a famous Seattle-based glassmaking artist, while I'd been attending art school.  I wasn't there because I was an art student, I was just working over in the publishing office doing temp work on the customer database.  However, I did end up putting some of my art skills to good use.
Working for Mr. Chihuly can be a harrowing experience. 
He is, shall we say, an eccentric character.  The graphic artist that was on staff in the main studio had not had one design approved in the two years that she worked there.  She quit out of frustration.
The folks I was working for got a call from the studio and I got a tap on the shoulder.  "Heyyy…  You're an art student, right?  Do you know Photoshop?"  Indeed I did.  I got sent to the studio for a few days to do some design work while they looked for another staff artist.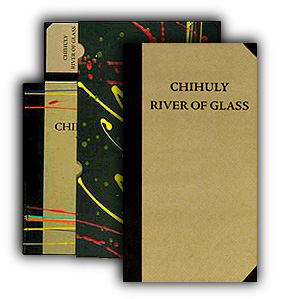 "River of Glass" video package deal.  Remember good ol' VHS?
Not too long before, Mr. Chihuly had a series of installations set up over the canals (or "rios", I believe they are called) in Venice.  The video and book were about to be released, and a special autographed package dealio was going out in limited edition.  (The "autograph" was Dale laying out several books on a huge table and splashing them with paint.)  To give you an idea of how long ago this was, the video was on VHS.
In any case, the book cover design was complete, as was the special release combo packaging, but the video box / cover didn't have a design.  They told me to just come up with something in Photoshop, print it and make a mockup, and then to not take it personally when Dale didn't approve it.
Being a bit more of a technician than an artist, I figured if he already approved the book cover, he'd want the video cover in the same style.  So I fiddled with Photoshop, learned about color printers that used wax, got some scissors and glue, stuck the bits to a plain VHS box, and sent it in for inspection.
I went back to the publishing house and kept working.
Within a day or two my supervisor got a call from the studio.  He looked a little stunned, then came over to tell me that my design had, against all odds, been approved!  The handful of folks who worked in the building took a few minutes to cheer and high five me, shaking their heads at this strange turn of events: random art student temp triumphs over professional graphic artist.
The assignment finished and I left, still confused about what glass blowing had to do with Venice.  If I could talk to my past self from the present day I'd say, "Self, you really need to get out and travel more!"
Oh, and throughout all of this I never once laid eyes on Dale.
---
Speaking of more travel, tomorrow D and I are going on a rather spontaneous trip to Venice.  We just got back from Naples where we visited family and toured Pompeii with Sherry Ott and the magnificent Aldo.  I thought we'd sit still for a bit and re-center, but this is too good to miss!
Y'see, Sherry is doing some work with Go with Oh, who have put her up in some lovely accommodations there, and she has an extra bedroom.  Go with Oh said to her, "Sure, invite some friends!" Sherry then said, "Hey, D and Katrina!  Wanna come along?"  We said, "WHEEEEEE!  Sign us up!"
So if I can just stop writing and get enough sleep that the alarm actually wakes me up in the morning, we'll be hopping on a train to Venice tomorrow.  Good thing I didn't unpack the camera from Naples yet!
What spontaneous acts of travel have you been committing?