Barcelona, Spain
Diving headlong into local dining experiences is one of the preferred activities of many travelers. The same is true for me and Dario. However, we don't limit ourselves to local cuisine, as we have several favorites in which we cannot always indulge depending on our living and travel situation. We may have gone a bit overboard with this gastronomical undertaking, however. We knew we'd be eating well on the official part of the blog trip, so we should have slowed down a bit, right?
…Nawww – you only live once!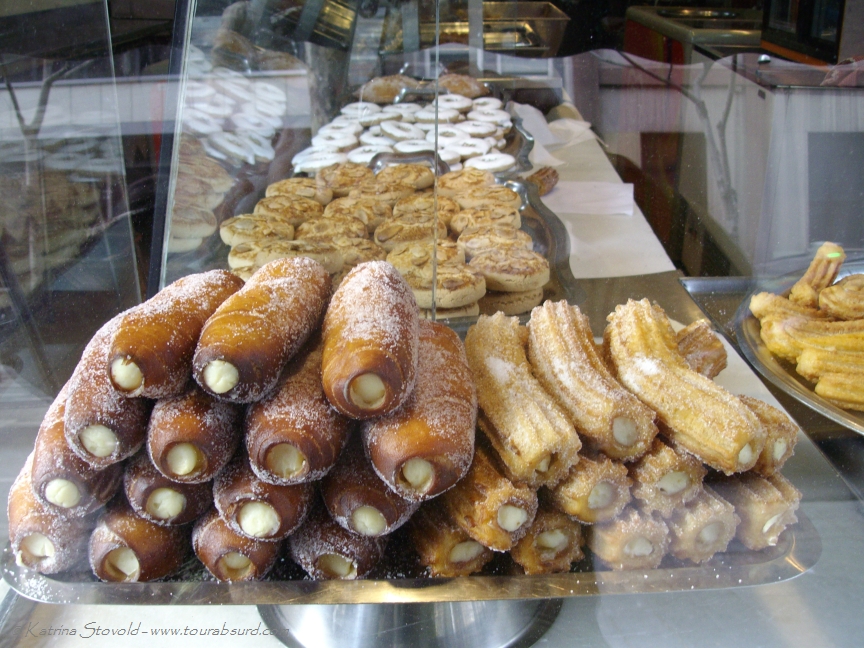 Cream-filled churros in Barcelona. Can't get those in Ireland or Italy!
For example, in Cork, there is a complete dearth of sushi. Despite all the wonderful seafood available in the south of Ireland, as well as a recent influx of foreign food influences on the Emerald Isle, the only 3 options we found were pre-packed schtuff and didn't come close to a real, sit-down sushi place in quality. …On the other hand, there was a Mexican restaurant (though they are oddly stingy with the beans)!
In Naples, we had the opposite problem: plenty of sushi, but no Mexican. Well, we finally did find Mexican food, albeit outside the city limits, just before we left the area. And DANG, it's good! You need GPS to find it, but if you're in Italy for a while and can't get over your desperate craving for Mexican food, be sure to visit Mamacita's in Caserta. Heck, make an excursion out of it! Tire yourself out at the royal palace during the day and fill up on good eats in the evening! But I digress…
Barcelona's beautiful Boqueria. It's fun to just bask in the abundance of it all!
We started in on the food opportunities almost immediately. Maria, a mutual friend of Linda, whom I had met on Tenerife, and Mariana met us upon our arrival in España. Eventually, that is. We got a little lost in one of the metro stations. Our bad.
We dropped our bags at Mariana's place and headed out with Maria in search of eats. (Mariana had to work; don't hate!) Didn't take us long to find something. And no, it wasn't tapas – it was Palestinian food!
About here is where I would normally wow you with some pictures of our fantastic meal, but here's the thing: we were so hungry we didn't stop for photos! I do apologize, but I did grab a business card because I wanted to tell you about it. So, if you ever find yourself stuck in Barcelona and you're all tapas-ed out, visit Askadinya in the Gracia neighborhood. Delicious and affordable, too. Even the house wine was nice.
Super secret tea room in the Gothic Quarter.
Fortunately, no clove cigarettes or dreary poetry in evidence.
Upon learning of our fondness for tea, Mariana promptly recommended we visit Saltiero in the Gothic Quarter. After Palestinian food and a quick visit to the Boqueria with Maria, we moseyed over to the neighborhood and lost ourselves in the narrow, winding streets of the old part of Barcelona.
We found ourselves near the ancient synagogue and noticed, much to our surprise, that the apartment upstairs was for sale. This tempted me into fantasies of relocating to Spain and living in the city center. For the brief space of that daydream I forgot what an introvert I am, requiring space, privacy, and nature to maintain sanity. Barcelona just has so much to offer… Oh, well — at least there's tea!
Those hands you see? Marlys and Michael of Easyhiker. :D
We did eventually submit to the incredible availability of tapas the following day. And though the food was good, the best part was the company. Marlys and Michael, who were in town for a different blog-related event, extended their stay by a few days so we could meet face to face – and they are great! I hope we can meet with them again soon in Paris.
I'm glad Marlys was there to show us how it's done, especially with the vermouth, that brown stuff in the glass. I think I'd only ever heard about it in an ironically mopey Magnetic Fields song. I didn't know it was something you mixed with carbonated water and drank with tapas. I liked it all right for a few sips, but it's pretty strongly flavored stuff. The house wine and I got along better, despite (or because of?) it being ridiculously cheap.
Does that say €1.40 per litre? ¡Ah mi dios!
The place was called Bar Electricitat (or Electricidad, depending on which sign you read) and the crowd is known to be rather raucous at times. Marlys and Michael had been there as part of their earlier blog trip-related activities, arriving with a large group during a busy period. The owner and staff are loud, genial, and entertaining, though the sound level can apparently get quite deafening.
Fortunately we arrived during a quieter period, but still received quite a lot of attention from our server (I think he may have been the owner, but cannot swear to it). Indeed, upon discovering that a single bite of the chocolate cake had been left on the dessert plate, he looked heavenward, said something to indicate what a tragedy it was, grabbed a fork, and insisted that one of us finish it off. Dario, perhaps used to Italian-mother style feeding, obligingly opened his mouth and was fed the worrisome sweet. Whew – world saved! We were allowed to waddle out in peace.
Oh, gods! When will the suspense end? Dip it in the chocolate already!
Mariana had arrived just at the end of the tapas in order to meet Marlys and Michael, but hadn't had anything to eat. After bidding farewell to the two easy hikers, we went in search of food for Mariana. She grabbed a sandwich and then took us to her favorite churreria, a place that has churros filled with dulce de leche, just like in Costa Rica. They didn't serve chocolate, so Mariana fired up Foursquare on her smartphone and found us a place a few blocks away that had chocolate, but not churros.
…And the stuffing continued.
Like a Corona except smaller and more Spanish.
Later that evening, we met with Mariana and her husband again, only this time instead of Palestinian food, we had Mexican at Chido One. I was over the moon! You see, Costa Rica (from whence Mariana originally hails) has food quite similar to Mexico, so when she said this place was good I was confident it would be delicious — and it was!
Dario got to try mole sauce for the first time, and I got to have tacos and horchata water. And we all had chips with fresh guacamole, mmm! Dario also tasted a spicy Corona, except in Spain it's called "Coronita", on account of there being an actual king with an actual crown in the country. In Spain, size matters.
Dried fruit, chocolate covered almonds, and nuts. *wipes drool off screen* Sorry 'bout that.
The next day Dario and I headed back to the Boqueria, as our first visit had been so late in the day that most of the stalls were already closed. After all the heavy eating, we wanted to get something fresh and light, so we had fruit juice and figs (figs! in February! brilliant!).
Later in the day we slipped back into tapas-eating mode followed up by drinks with Jade of Vagabond3 and Laurel of Monkeys, Mountains and Maultaschen. My photo-mojo ran out by the evening, however. I could not lift my camera. Heck, I could barely lift my fork! You're going to have to imagine the tapas and drinks, I'm afraid. Still, the Boqueria is BEAUTIFUL, so a few more pics can only do ya some good.
Fish Lady is ssssswift!
The people are patient because they don't have to wait long with Swift Fish Lady on the job!
Trying to imagine Les Poissons sung barbershop quartet style.
There is really nothing especially spectacular about these fish, other than the fact that when I saw them I immediately thought of a barbershop quartet. I don't know what the fish on the left is, but I sincerely hope it's a bass.
Breakfast figs get you movin'.
This is the same stand we saw the first day. They really are clever about making the displays artistic and lovely. Mesmerizes you into opening your wallet and paying far too much for pretty fruits. (To be fair, we did look at several other stands further in to see if they had figs and didn't find any.)
This is the kind of thing that makes me want to travel with a steamer trunk.
I want to take the cuteness home!
Finally, here is a cute picture of some wee dried flowers outside the market on La Rambla. With all that face-stuffin', a walk in the fresh air would do us some good, don't you think? Need to breathe a bit before we start in on another round, after all. Oof, let me loosen this belt…
Where is your favorite place to stuff your face?