Besalú, Catalonia, Spain
Hola from Besalú! Dario and I, and several other travel bloggers, are here in Catalonia, Spain, exploring the area, eating the food, drinking the wine, and staying at amazing luxury villas (srsly, they are suh-weet!). Grab yourself an eyeful of the view we had this morning!
To infinity and beyond!
The above photo was taken near Cadaqués this morning at Sa Vista, one of the most amazing properties I've ever seen. It's a place that I immediately pictured hosting celebrities and their entourage (or posse, as the case may be). For some reason, I kept thinking of Lady Gaga, but it probably doesn't have enough disturbingly shaped body parts or sequins for her taste.
Richard says that all the villas they manage have private pools, but the one at Sa Vista is especially impressive as it is an infinity pool that gives the illusion of stretching down to the waters of Port Lligat. When standing by the pool, if you turn your head to the right, you can see one of the houses of Salvador Dalí. We toured the house and found it freakishly stylish and fun! It's recognizable from afar by the giant eggs on the roof. (You heard me – eggs!) I am hoping that enough of my photos came out that I can write a proper post about it for you. In the meantime, I did post a single photo on Google+ and Pinterest, if you'd care to take a peek.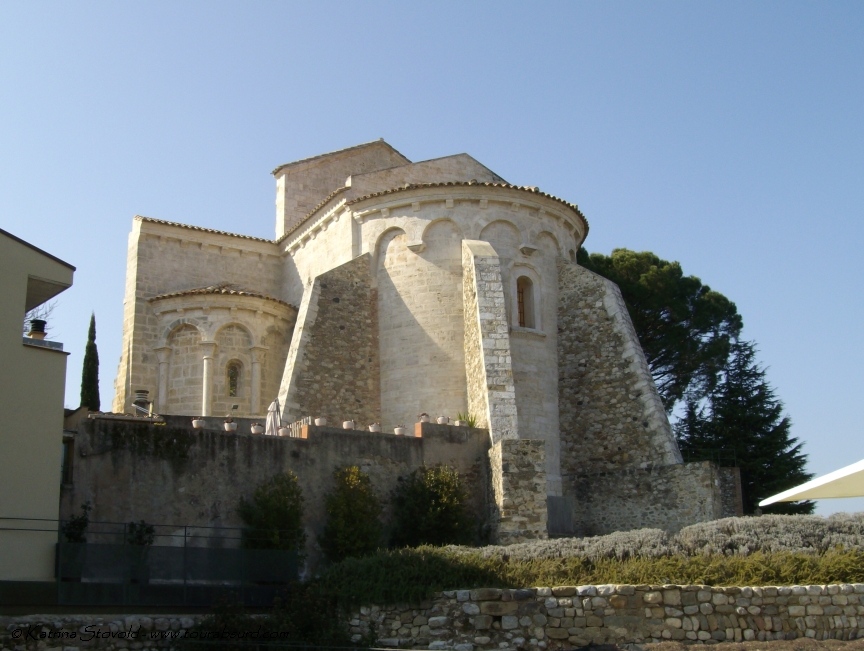 Mas Tallaferro, which roughly translates into "Your belly is like unto a lump of iron".
In other news, it seems that if we are not careful, our host, Richard will sneakily arrange another big meal and round of wine tasting. At this point, it may have shifted into "whine" tasting, since every time we hear of more delicious food headed our way, we all seem to both smile and groan at the same time. I know, I know… #firstworldproblems. As one member of the troupe said, "Should have brought the buffet pants!"
Right now we are staying at Mas Tallaferro in Besalú, Catalonia. The castle-y bit above is the view from the garden where we just watched a paella cooking demonstration. And, yes, then we ate the paella. Whiners we may be, but foolish we are not!
It's like a macabre, seafood-based water ballet.

Later we are supposed to have – surprise! – more wine tasting and a light dinner. Good gracious, I hope it's light. I think our airline may charge us for excess baggage if we keep eating like this. Or at least charge us with a safety violation since we'll be unable to tighten our belts "low and tight " across our hips.
In any case, I can see why people love Costa Brava and Catalonia. The people are nice, the food is wonderful, and the history is rich. As always, very much enjoying learning about a new area of the world.
What part of the globe are you exploring?