Rome, Italy
You may have noticed that I've acquired some Neapolitan snobbishness about food from my Italian in-laws.  It is not helped by the fact that when we visit our non-Neapolitan friends in Napoli, they tell us things like, "When my family comes to visit Italy, they skip the rest of the country and come here for the food.  It's the best!"  It's also not helped by the fact that Roman pizza is actually pretty bad.  I know a few folks who would argue that last point, though I suspect that they accidentally stumbled into a Neapolitan-run pizzeria in Rome.
In any case, when we were introduced to the director of a local food tour company, I welcomed the chance to shed (or at least modify) my prejudice.  There is no way that Rome could ever triumph over Naples in terms of food, but I might take mercy on it.  And since, hey, we were in Rome, I figured I'd go about it emperor style: each dish would either make or break the case for Roman food being allowed the right to live.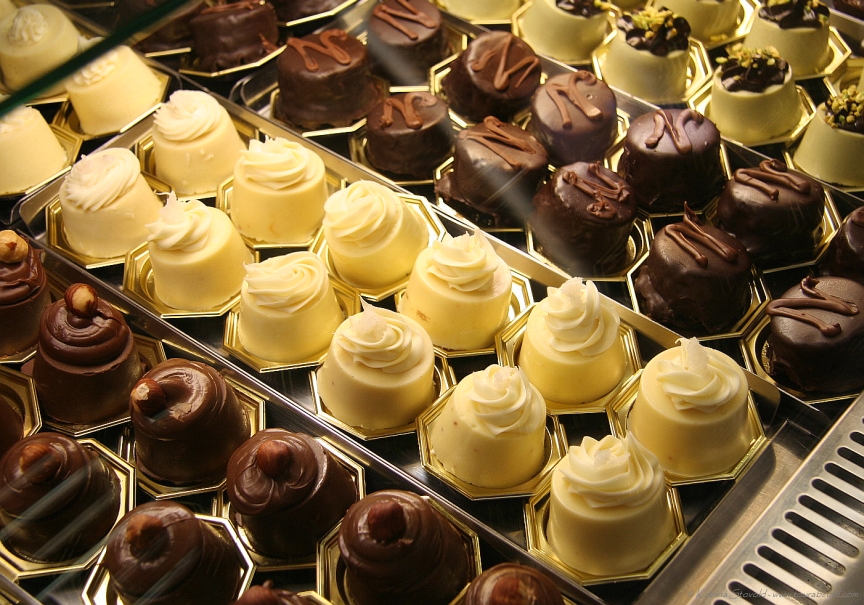 Not a bad way to start off my quest.  Or any kind of quest for that matter.
Our friend, Sherry Ott, introduced us to Kenny and told us all about how much she enjoyed the tour.  So I contacted him and, dang, but she was right!  Kenny is super friendly, cheerful, and welcoming.  He invited me, Dario, and Mariana and her hubby to come on the tour.  We gleefully accepted!
He doesn't hold still very often, but the smile tracks anyway.
We met Kenny and the other folks on the tour in the Testaccio neighborhood of Rome.  First stop was the local market, an institution that's been in place for nearly 100 years.  Kenny is originally from Philadelphia, but has been living in Rome for 4 years.  He is on a first name basis with many of the merchants.  Besides learning about the history of food imports into Rome, he was able to tell us which of the current stalls in the market were run by people who grow their own produce vs. buying it at a large wholesale market in the wee hours of the morning.
Don't you feel healthier just looking at this stuff?
We were introduced to some of the folks at the market, all of whom were happy to see Kenny and seemed accustomed to his crowd of trailing tourists.  He was even given a bag of mandarini (mandarin oranges) to share with us at the end of the tour.  If, that is, we still had room!
Tiny ball of mozzarella di bufala.
Our first food sample came in the form of mozzarella di bufala.  This is a specialty of the Campania region (aka, Neapolitan territory), so while it was delicious, it neither added nor subtracted points from my overall impression of Roman food.  Your life still hangs in the balance, Food of Rome!
Besides the fish, this stall owner's other claim to fame is having Marcello Mastroianni in the family.
We learned that, despite the fact that there were two fish stalls right next to each other, Kenny is only allowed to shop at one.  It's not that he created a ruckus and received a warning or anything like that.  It's that the folks at "his" stand have been doing business with him for long enough that they have laid claim to him.  He tried to go to the other stand once and was nearly speared to the wall with the intensity of the evil eye pointed in his direction.  You do NOT want to mess with fishmongers, let me tell you!  There is simply no point in risking bad clams – ever.
We learned some things about artichokes and zucchini flowers, among others, and then headed off to the tomato stand. Not just any tomato stand, mind you, but a stand that has some 45 (or more!) varieties of tomatoes.  It is run by a fellow known as "The Tomato Poet".  I don't know if that was just Kenny's name for him or if was a local nickname, but we thought it was a pretty cool thing.
Oh, how'd he get the name?  Well here's the deal…  Most times when you're planning to cook something, you get yourself a list of ingredients and head to the shop to pick them out, right?  You have a pretty fair idea of what type of things you need for your particular dish, be it meat, flour, fruit, or vegetable.  So normally you'd just grab it and go, yes?  Not so at the stand of The Tomato Poet, heavens, no!  You tell him what you're planning to cook and he picks out the appropriate tomato for you!
We tasted 3 small tomatoes, including a variety that looked like a wee pumpkin, and the flavor was incredible!  I was reminded of why I never really grew (no pun intended) fond of tomatoes in the US.  Most of them really lack character or distinctive flavor.  In Italy, tomatoes are so good I could just eat them like candy.  Too amazing!
Once again, not so convinced this is a Roman thing in particular, so the life of Rome's food still hangs in the balance.  I have not yet decided whether to release the Kraken!  …wait, that's Greek.  Um, I have not yet decided whether to release you from your life of servitude or feed you to the lions!
It's window-lickin' good!
Our next stop was at Volpetti, a fantastic gourmet food shop that is, apparently, known to foodies around the world.  They have wine, cheeses, meats, desserts, olive oil, and aged balsamic vinegar that is so sweet you could just about put it on pancakes.
Before we entered the shop, Kenny nipped in to grab our specially prepared selection of prosciutto, salame, and cheeses.  My favorite was a variety of cheese that was flavored by truffles.  Wow, just wow!
Hmm…  share or eat?
With as many times a week as Kenny does the tour, you would think that he might get tired of talking about and eating the same old thing.  His enthusiasm shines through, however.  Probably the food is a tremendous motivator.  In fact, I'm pretty sure this photo caught him at a decisive moment.  He looked like he wasn't sure if he was actually going to feed us or just take it all for himself.  Fortunately for us, he was feeling magnanimous that day.
Italian sweets galore.  Get me a coffee!
I love cheese so much.
Sun-dried tomatoes and artichoke hearts.  Dario thinks this photo is "very Italian looking".
Vinegar tasting on the left, vast quantities of meat and wine on the right.
We tasted 2 types of vinegar, one that was 5 years old and another that was 15.  It was so sweet and smooth, I wanted a glass of it to sip.  Reminded me of a dish I tried a long time ago that consisted of sliced pears, fresh basil, and vinegar.  It was unusual, yet everything worked really well together.  Italy has great pears and basil, too, so I may have to head back to Volpetti to pick up some vinegar one of these days.
Oh, and the life hanging in the balance?  (Roman food, that is.)  You are getting closer to salvation.  Volpetti's is heaven!
And while I'm in the neighborhood…
After Volpetti, we headed to Barberini, a fantastic pasticceria (pastry shop), to try cornetti (Italian version of croissants) and tiramisu in leetle chocolate cups.  Until that point I was never really pleased with cornetti, always preferring the French version instead.  I must say, this changed my opinion.  We didn't actually have the strawberries and cream from the picture, nor the chocolate bonbons from the opening photo.  It's ok, though – we had tiramisu, after all!
Ok, where are we on points?  Fantastic cornetti and delicious tiramisu, hmm.  The tiramisu gets extra points on presentation.  I mean, a tiny chocolate cup with a handle and everything?  Can't beat that.  …and the point goes to Rome!
Keats was a pretty humble dude, but his "friend" Severn?  Not so much.
There's a bit of non-food-related culture and history on the tour, as well.  Besides being a lovely stopping point and photo opportunity, a visit to the Non-Catholic Cemetery for Foreigners in Testaccio gives everyone a nice chance to breathe and walk off a few calories.  As we'd come to expect by this point on the tour, Kenny had funny anecdotes to tell us.  One of the best is his theory about the fellow buried next to Keats.  By the time we left, all of us were shaking our heads at the audacity of the guy, geez!
What?  Oh, you want to know why?  I really think you should go hear the story in person.  Besides, Kenny tells it much better than I do!
I love flower pics.
It was spring and things were blossoming!  The cemetery is quite a lovely place.  There were many flowers and trees in bloom.  As demonstrated in the post about Capri, I just love flower pics!
Waiting for god or just Godot?
I've heard two different versions of the story behind the Pyramid of Cestius.  One is about a guy named Cestius who put a pyramid clause in his will.  If his son wanted to inherit, he had to build dad a properly pointy tomb after he died.  Another story says that Cestius spent so much money on the building of the thing that he actually went broke and was unable to make the final payment.  He died shortly after it was completed.  In retaliation, the builders tossed his body in the Tiber, and so the tomb is empty.  I don't know which is true, but I do know that I think this is one of the coolest things in Rome.
I saw a relaxed and chatty mass of senior citizens peering up at the pyramid and just had to get a snap.  And then I had to throw on some old-timey filters to make it look, well, old-ish.  You know, so there'd be a few layers of old action going on here: ancient old and contemporary old.  I think I meant to say something poetic about the timelessness of aging, and somehow tie it into the dignity of ancient monuments, but I forget what it was.  Instead you get some puns and stuff.  You're welcome.
Three kinds of pasta and two kinds of wine.  And one shadow.
Hey!  I was too happy about the pasta to get out of my own way.
Not every food tour with Kenny will be the same.  There are different establishments on the route that he may stop into on one day, yet the folks who take the tour on the following day may go somewhere else with him.  On this day we sampled pasta at Flavio al Velavevodetto.
Once again, I think Kenny would probably tell this story better than I, HOWEVER, I love this one too much to tease.  See, the guy who founded Velavevodetto lived in the neighborhood and used to tell friends and family of his dream for starting a restaurant.  They would laugh and clap him on the shoulder, shaking their heads at his crazy fantasies.  "Keep dreamin', sucker!" was the message.  Well, it just goes to show that you should never give up on your dreams, because he DID build the restaurant and it's wonderful and extremely popular.  "Velavevodetto" means "I told you so."  That rocks!
The pasta and wine were good, but only slightly better or the same as I've had elsewhere in Italy.  The restaurant totally gets points for the name and the location (something you've just got to see), though.  So…  I am inclined to look favorably upon you, Roman Food – though you're still not out of the dungeon yet!
I am DEFINITELY going back here.  This is not a question.
Although we were pushing maximum density after the pasta, there were still two more stops.  The first was to sample supplì, the Roman version of arancini, also known as palle di riso (fried rice balls).  The place has a number of flavors available, but we tried Genovese.  It would be logical to think, based on the name, that the dish originated in Genoa.  This is not the case, however!  And yes, I am going to leave this one for Kenny to tell you.
I will say this, however – Genovese is one of my favorite Italian foods.  It's a very simple beef with onion in a broth, but it's always amazing.  (Mamma knows it's a particular favorite of mine and cooks it as a special surprise.)  I'm afraid I must admit that the supplì we had kicks the pants off all other fried rice balls I've tried in Italy.  Double score for Rome!
"Wait, you mean you've had that thing on the whole time?"
On our final rest break, Kenny told us a dramatic tale of loyalty, family, and gun running.  Yes, it was a heartwarming tale about the mafia!  And he told it while in a spot where some actual mafia action had taken place.   We were struggling to catch our breath after stuffing ourselves silly, so even if we'd been frightened out of our wits, sprinting out of there in terror would not really have been possible.
But it's a good thing we took a breather, because we had one more, extremely important place to visit: a gelateria.
I got banana with chocolate topped by a dollop of panna.
At the gelateria, we learned the difference between ice cream and gelato, were told our "rights as a gelato eater", and were also given the secrets for discerning true, artisan gelato from artificial fakery.  I was quite pleased to finally have some of my burning questions about gelato answered.
If you'd like to hear Kenny explain some of it, please watch the video.  It's funny AND informative!
Can't see the video?  Watch it on YouTube: http://youtu.be/OxrSmb3O5sE
As I said, I was really pleased to learn some of the things he told us about gelato.  Dario and I already have a favorite gelateria, but it's also in town, so, yeah – the point goes to Rome on this one.
I have not actually been counting the points because I was kind of going about it in a Drew Carey, Whose Line Is It Anyway? manner ("…the show where everything's made up and the points don't matter").  So what's the conclusion?  Drum roll please!
Rome, your food has impressed me.
I am going to let you live to see another day.  Give this city a shield and a sword, and release it from the dungeons!  (In other words, thumbs up!)  I am still loyal to Bella Napoli for many things, but I think we can work out a satisfactory trade agreement, one that consists mainly of me eating your delicious food.
.  .  .
Now, before you go, I don't want you to think that I gave up all of the secrets of the tour here.  And as you can see from the video, Kenny's personality and enthusiasm are a huge part of the charm.  But really, all the little details – the origin of the name Testaccio, Rome's artificial hill, how meat plant workers and their families created some classic Roman dishes, stories about the local football team, etc. – are all part of the tour and will really open your eyes to the culture and history of the area.
We completely enjoyed the tour and believe you will, too.  The name of the company is Eating Italy Food Tours Rome.  Be sure to take the Testaccio tour.  
Have you been on a food tour?
This post made possible by Insure & Away, providers of cheap holiday insurance.