After a smashing time in London at the World Travel Market, I am up in Scotland. I'm visiting for the first time, so naturally a trip to the Highlands was in order. I'm taking a 3 day tour that passes through the Highlands and heads up to the Isle of Skye.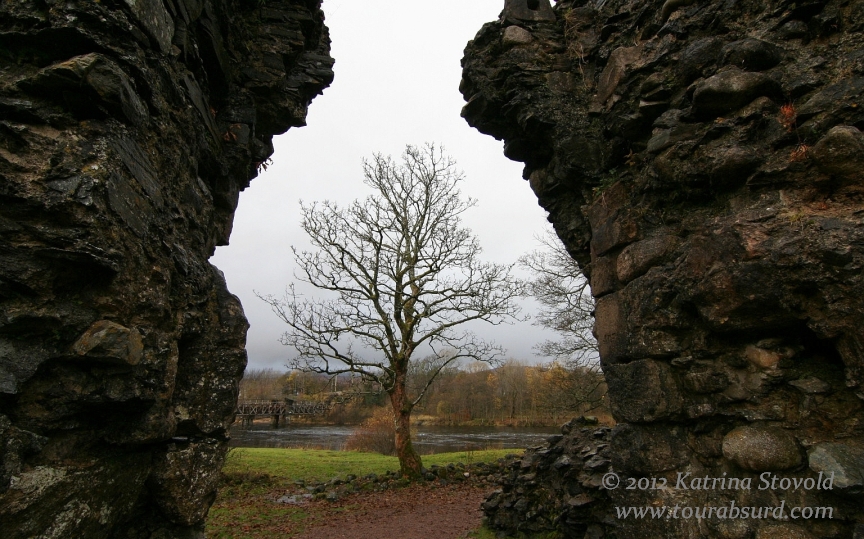 Because "Inverlochy" is easier to say than "Inverriver-y".
One of my more triumphant pictures of the day was from Inverlochy Castle. It's free to visit because there's not much there, but I do love old stoneworks! …and trees. And rivers. And fun framing.
I don't always have internet throughout the day, but when I do I've trying to keep current via Instagram. If you use it, please join me! http://instagram.com/tourabsurd
Whenever possible, I have also used the big camera to get some higher quality versions of the Instagram shots. I'll share some of that in subsequent posts, so think of these as teasers. ;)
Arthur's Seat (and possibly his ottoman) in Edinburgh
The rock formation in the background of this photo of Edinburgh is called Arthur's Seat. It's part of an extinct volcano, which always gets extra points in my book.
Watch out for low flying broomsticks.
We didn't stop, but did drive past a big mountain that was featured in one of the Harry Potter movies. Apparently there was a long, sweeping shot of a Quidditch match zooming over and around the mountain. Fortunately the cloud cover of the day protected us from any unsavory moves by Slytherin.
I almost wish I was a Harry Potter fan because I'd be hugely delighted by all the locations we've seen. Well, I'm delighted anyway, just not filled with the high levels of geekly delight that sometimes accompany that sort of thing. I'm certain a few of my Potter-head friends will want to cast a hex on (or just choke) me out of jealousy and their belief that, as a non-fan, I am not worthy of the honor of laying eyes on these sacred sites. To that I say, "Jubilantus Nosethumbium!"
Free whisky is the best whisky.
We stopped at Spean Bridge Mill for a peek into their shop. Wonderfully for us, they had free samples. I enjoyed the smoky taste (sorry, Jamesons!), though it wasn't as smooth as it could be. There was also a whisky liqueur out for tasting. I really loved the perfume of it. Enjoyed the taste, too, as it was sweeter and smoother than the whisky alone.
The tour group is small and friendly. Our guide keeps us constantly entertained with tales both tall and true, explaining bits of history while shrewdly including comparisons of movie vs. reality whenever possible. Filled in quite a few gaps of my knowledge about Braveheart and Rob Roy.
Have a day of exploring the Isle of Skye tomorrow, and then another trip through the Highlands after that. Will be stopping at the famous Loch Ness on our way back to Edinburgh. Wonder if I can scare up some stale bread for Nessie…
Have you been kickin' up your heels of late?
Special thanks to Rabbie's Trailburners for providing this tour and connecting me with WoodPark B&B in Portree. Enjoying the heck out of everything so far!