Rome, Italy
Dario and I decided to spend some time with the family back in Italy, both for the pleasure of being together for the holidays and to skip out on some of the cold, dark, Irish winter. Unfortunately, we seem to have brought the weather with us!
(Click to enlarge.)
On a clear day, you can see the Pope's house from here.
Last weekend Rome and many other parts of Italy got hit with a tremendous snowstorm. We were excited since it's an unusual event, we have plenty of firewood, and our electricity (and internet, thank the gods!) stayed functional. Not everyone was so fortunate. There is another storm that is supposedly headed this way again even now. I hope it clears up in enough time that we can head to Fiumicino on Monday for our flight to Spain. We've been looking forward to the trip for months!
I've managed to acquire a few stamps from Spain in my passport, but I've never been to Barcelona or Madrid. Our trip to Girona looked like a perfect time to sneak in a side trip to The Big B. Over on Ye Olde Facebooke Page, some of the lovely folks I'll be meeting in Girona are handing out the tips, fast and furious. I want your feedback, too!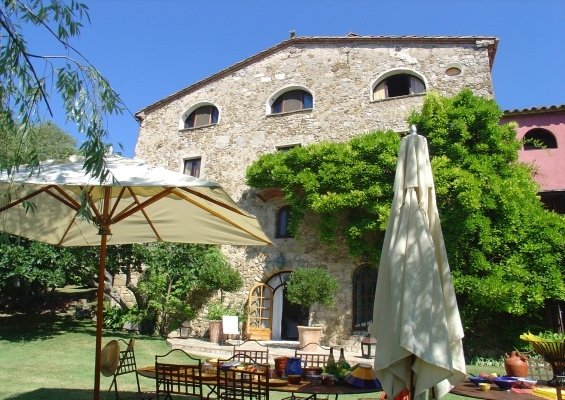 Oh, luxurious villas, how I'm looking forward to meeting you!
Handily enough, Mariana from My Travel Thirst lives in Barcelona. Dario and I will definitely be taking some of her advice for eats and sightseeing before we all head north together.
Andrea from Destination Europe has also shared some of her Barcelona recommendations with us. Perhaps even more importantly, a recent post about her February travel plans has provided a great video of a calçotada for me to steal and wow you with — mmm, BBQ'd onions and wine…
Calçotada action starts around 3:20.
Can't see the video? Watch it here: http://youtu.be/PMLUbaHkJ9U?t=3m21s
Other folks we'll be meeting along the way will include:
– my dear (online) friend, Marlys of Easy Hiker, who managed to extend her trip a few days just to meet! Travel is so great for that! :D
– Maria, introduced to me by Linda of Islandmomma while I was visiting Tenerife, is originally from Barcelona and will be in town. Yay! Now Dario gets to meet her, as well. (Too bad Linda won't be around — she's excellent!)
– Janine, friend of our mutual friend, Dario. No, a different Dario; he's from Florence. Naples Dario and Florence Dario have been together in the same place and managed not to cause a singularity, which was a huge relief.
– Our host, Richard, of Charming Villas.
– Erin of La Tortuga Viajera, Cheryl of the aptly named cherylhoward.com, Marie-Eve of Eurotrip Tips, Jade from Vagabond3, Kamala of Brownell Travel, and Laurel who used to write "Expat in Germany", but recently gave in and revealed her love of monkeys.

Sa Vista, you are so beauuutiful!
I've received some recommendations about where to go in Barcelona, but there's a part of me that really enjoys going somewhere with a blank slate. My ignorance will potentially make me amusingly gullible. It will certainly mean that any and all impressions and "Wow!" moments will be genuine. I hope what it doesn't mean is that I end up in the, "Omgosh, you went to Barcelona and didn't do ____?" category.
Now is your chance to save me from that terrible, terrible fate. Our budget is somewhat limited, so extravagant dinners and theater shows are not likely going to work. Spontaneous, free/low-cost, and silly things, however, absolutely will! So…
48 hours in Barcelona — what do I see?