Outside of the US
Dear Universe,
Sometimes I need to know that the door which just closed did so because another, much better one, is opening.
You have my number. Thanks.
Sincerely,
Rantypants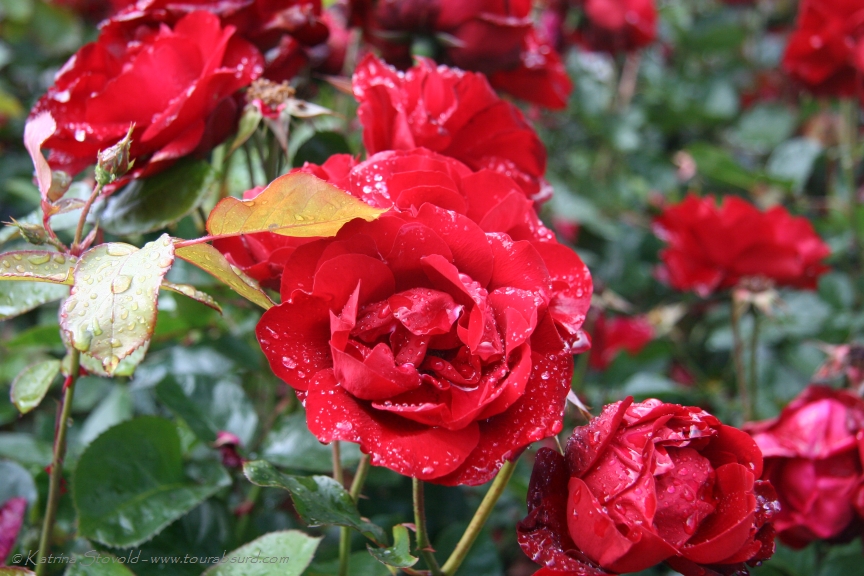 Every bed of roses has its thorn. That smells. Or something.
Usually my blog is my happy place. Aside from my occasional tantrums about how the wheat bread has gone missing AGAIN, or the blind rage that comes over me when I hear about animal abuse, it's a reasonable reflection of my outlook and philosophy. (Actually, I'm pretty tree-huggy and new agey, too, but I try to keep that on the down-low in blogland.) And yet sometimes the yin comes right outta nowhere and whops you on the yang. Balance, people, it's all about balance… (Shush, new agey voice.)
Today my goals were simple:
confirm a few plans for Naples and a Pompeii tour with Sherry Ott
answer Mariana's questions about her upcoming trip to Italy
write a review of Nellie Huang's Wild Junket Magazine (which is beautiful, by the way)
start training for a new part-time telecommute job
Item 1 – check! Item 2 – check! Item 3 – not checked. It was foolishly scheduled to take place after Item 4. (Dang, why don't I stick my own numbers?) Foolishly because, as we all know, jobs are craaaaazy.
A couple of days ago one of my online buddies, Lindsay Hogg of Chicken Chunk (among other things) and I had a Twitter exchange after she said she'd been wearing the "superpants" all day. Apparently I had, all unknowingly, put on said superpants the following day, as I had been superextrauber-inspired and hardworking: I pre-scheduled, like, a bahjillion tweets on Hootsuite! It was epic.
These pants are more silly than cranky. The hats are pretty rockin', though.
Sadly, the yin (remember the yin?) to the superpants' yang is the crankypants. Wearing the crankypants can, under certain conditions, lead to the donning of the rantypants. Probably because they are so uncomfortably tight you don't allow yourself to eat delicious cookies. This must be remedied, since the only known cure for crankypants is cookies.
Anyway, here's what went down:
A few months ago a contracting company that does work for a "Big Internet Search Engine" (I hope you're doing finger quotes in your head) contacted me through a freelance website. They asked me to apply for a job as a contractor because I spoke English and lived overseas. I did not, however, speak French (nor had I ever pretended to), part of what they were seeking, and so informed Random Recruiter Lady. She asked me to apply for a different position on their webpage. And so I did.
Skip ahead a few months and they finally send me a donkeyload of electronic paperwork to fill out and submit. I do so, putting down my citizenship (US) and address (Ireland). I take an assessment, wait a few weeks, and get a job offer. I wait a few more weeks while they dink around with the training schedule, find out it's happening while I'm in Spain sans internet, get put on the waiting list, and resign myself to working on more blog sponsorship while Dario pursues funding for his project. But noooo…
A wild email appears! It's super effective!
They asked if I could start training in a few days. They were even apologetic for the short notice, awww… It was part-time, telecommuting, web stuff – perfect! I said yes.
Today I cleared off the desk, installed the stupid Microsoft NetMeeting, dug out the microphone, tested everything, and even brushed my teeth in case NetMeeting came equipped with smell-o-vision. I stressed about it all over dinner, too – no charge! And then it began.
We all introduced ourselves, gave some info on our respective backgrounds, and indicated where we were located, as instructed. Washington state, Texas, Ohio, military spouse, non-profit worker, teacher, and, "Oooh! A travel blogger. How exciting!" (Although I worried about smell-o-vision, paradoxically I did not worry about eye-roll-o-vision.)
I sat through the training and unmuted my microphone at appropriate intervals to "mm hmm" and "sounds good" and "oh, how funny!" Everything was peachy until an hour or so later.
Hoa Hakananai'a is not impressed.
"Ooo… yeah, about that whole 'overseas' thing…" Suddenly it was Not Okay and they Will Try To Find Something In Your Area. …What the bloody hell?
I tried to watch Scrubs with Dario to take my mind off it, but I was really upset. Naturally I did the only thing a sane person would: I wrote a poorly punctuated rant on Facebook. Still, I didn't name the company or their client. I'm respecting the NDA, even if you didn't respect me, you poxy internet liarpantses!
New agey voice is reminding me to breathe slowly and think of rainbows. *grumble mumble grrr* Ok, inhale… That's right! Now let all that negativity go. And exhale… Remember to thank your friends for reading. Inhale… Exhale…
…Ah! I feel better already. Thanks for reading.
ps: I think tomorrow I'll go back to the cookiepants.