To get to know a country, you must have direct contact with the earth.
It's futile to gaze at the world through a car window.
– Albert Einstein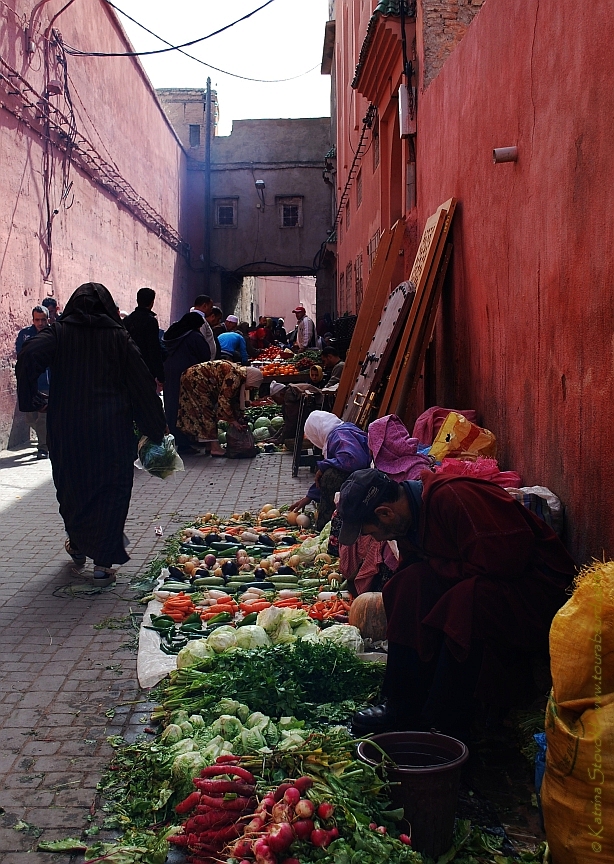 Looks like good stew ingredients – the soup souq?
Photos of lusciously arranged market wares are almost cheating, blog-wise. I mean the layouts are designed to be beautiful and tempting! It's nearly inescapable, the magnetism of such images, and I am not immune. But occasionally something a little different is nice.
I've seen several gorgeous pictures of spices, dyes, and even shoes come out of the souqs (markets) of Morocco. However, I wasn't as liberal with my camera usage there as I usually am, due in no small part to my friend, Rachid, warning me about how Moroccan people don't like their pictures taken. He would sometimes walk several paces in front of or behind me, and be cleverly distracted by needing to tie his shoe or send a text message, during the times I did take a photo (plausible deniability, you see).
In an effort to respect privacy, I tried to get wider, more anonymous shots while I was there. There were times when, as both a blogger and an appreciator of beautiful imagery, I found this tremendously frustrating. The profile of an exceedingly handsome older gentleman at the Tetouan bus station still strikes me as one of the great missed opportunities of a lifetime. (On the other hand, I have complicated feelings about objectifying people, so…)
In any case, during our limited time in Marrakech – not enough time for me, but too much time for Rachid – we made the obligatory visit to the main souq. I was glad I'd spent so much time in Naples, as the zooming scooters and surprise donkey carts squeezing through the narrow lanes could easily squish an onlooker. Rachid still had to warn me a couple of times, since the aforementioned artistic displays were indeed quite mesmerizing.
As with real estate arrangements world wide, those with the greatest visibility and ease of accessibility probably paid the highest rent, and thus charged the most for their products. The further one got from the main paths, the less commercial and more affordable things became. I think things also became more locally-oriented, which tends to be more educational than staying where all the flash and finery reside.
I cannot claim that exploring the back alleys of the souq was necessarily the "contact with the earth" of which Einstein spoke, but it was certainly less glossy and insulated than riding around in a tour bus. (Also, I got to say, "soup souq". ;)
Have you gotten to know a place minus the insulation?