Austria in winter is probably best known for skiing and the après ski culture that goes along with it.  We Yanks probably throw in a bit of Julie Andrews sing-a-long to go with the holidays, too, but it doesn't go much further than that.  And yet there is a softer, gentler, less athletic, and more vacation-y side of things.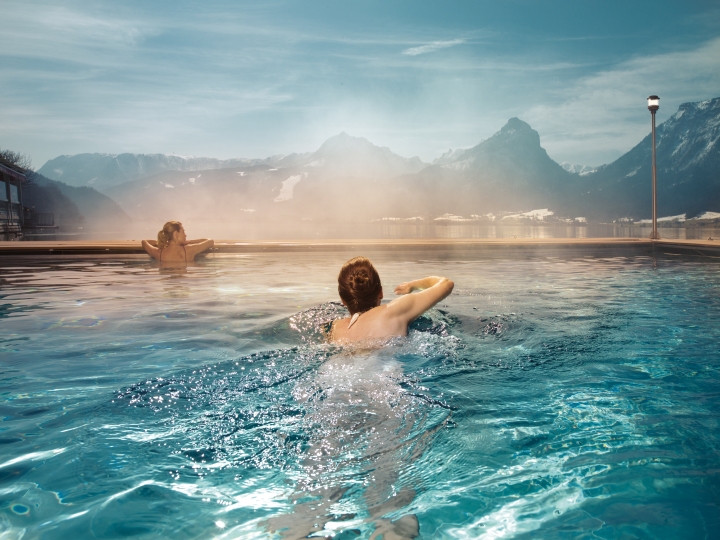 Outdoor Spas
For starters, there are wonderful outdoor spas, if you can believe it, right on the edge of alpine lakes.  I am scheduled for a "treatment" (sounds slightly ominous) at the White Horse Inn, which has one of these close encounters with nature set up.  Austrian massages, I hope, are not as brutal as shiatsu.  Otherwise, I may end pounded as flat as a piece of Viener Schnitzel.
Germany is the country with the most widely known reputation for Christmas markets, but Austria has quite a collection, too.  Along with Sarah and Terry of LiveShareTravel, I will be a guest of Creative Elena for the first part of the trip.  She's already arranged for another blogger to take in the edible spectacle of Austrian Christmas markets and we're next!
Christmas Markets
I am not anticipating having a tree this year, but I'm totally looking forward the little jingles and sparkles that come from ornaments on display at the markets.  Other than the hearty, sausage and potato-based fare that has made it across the seas to the UK, Ireland, and even North America, I am not sure what types of food to expect.  Since the US is influenced so heavily, yet randomly, by our European connections, I suspect many of the flavors will be familiar even if the particular dishes are not.  I also hope that I can wrap my mouth around both the food and the Austrian words for such!
Besides the delightful glow that one gets from Christmas season and all the trimmings, we will also be indulging in lots of hot glühwein (mulled wine).  Which will undoubtedly provide a glow all its own.  My firm belief, founded in the wisdom of Christmas carols and stereotypes, is that we MUST go on a sleigh ride!  And at the end, we shall warm up by imbibing copious amounts of tasty adult beverages!
Sleigh Rides
I have been assured that we have a sleigh ride scheduled.  This continues to elicit a squee from me every time I think about it.  I only hope we will not have far to walk post-glühwein.  All of the padding from snow coats and gloves should serve me well, however, if I find myself slipping on the ice and plowing rump-first into a snow drift.
There are still a few mystery gaps in the itinerary, so stay tuned, gentle reader, as Austria unleashes her winter wonders upon us.  I have never been to a proper alpine Christmas market, so I am totally jazzed.  They are bound to be sparkly, relaxing, and fun.  And yes, chock full of glühwein!
Where are your favorite Christmas markets?